Book one of our Self-Guided Canoe Trips on fixed dates! Care for yourself and experience the remote wilderness in the Pearl River Nature Reserve for 8 days. Or how about paddle from Jokkmokk to Kvikkjokk during 7 days or the other way around, from the mountain area in Kvikkjokk to the forests in Jokkmokk.
You save a lot of money to book one of these self-guided canoe trips compared to rent a canoe and get transports on individual dates.
---
Canoe Trip Package – Pearl River Nature Reserve, 8 days
4 700 Sek / 2 pers
Includes: 1 canoe for 2 persons, 2 Life jacket, 3 paddles,1 Waterproof barrel 60 liters, Sponge, poop shovel, garbage bag, Loan of tour map. Transportations for 2 persons between Jokkmokk and launch point.
---
Canoe Trip Package – Jokkmokk to Kvikkjokk, 7 days
5 100 Sek / 2 persons
Includes: 1 canoe for 2 person, 2 Life jacket, 3 paddles,1 Waterproof barrel 60 liter, 1 Canoe cart, Sponge, poop shovel, garbage bag, Loan of tour map.Transportation for 2 persons: Jokkmokk and launch point day 1 and Kvikkjokk to Jokkmokk day 7
---
Canoe Trip Package – Kvikkjokk to Jokkmokk, 7 days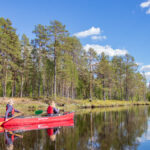 5 100 Sek / 2 persons
Includes: 1 canoe for 2 person, 2 Life jacket, 3 paddles,1 Waterproof barrel 60 liter, 1 Canoe cart, Sponge, poop shovel, garbage bag, Loan of tour map.Transportation for 2 persons: Jokkmokk and launch point day 1 and Kvikkjokk to Jokkmokk day 7
---